Griffith offers a symphonic food and wine blend of regional Australian produce, fused with a local history of European immigration and culinary traditions.
Calabria Family Wines, Griffith NSW
In a dimly lit underground cellar in Griffith, with an antique chandelier and hundreds of wine bottles stacked up against the wall, I sit at a wooden table across from a row of glasses branded with the historic Calabria Family Wines logo.
A welcoming Italian spirit fills the air at this Tuscan-style cellar door situated five minutes' drive from Griffith's town centre. A host pours the vineyard's favourites – Vermentino, Nero d'Avola and Pinot Bianco. Then he nudges me to eat more of the cheese, olives and salami generously provided.
The filling of cups prompts conversation, and the endearing European way of gathering – with good food, quality wine and new friends – on Riverina soil.
I discover that Bill, the managing director of Calabria Family Wines, is somewhat of a rarity in the industry. He's allergic to alcohol. But armed with a sharp sense of smell, he has managed to create one of the region's star wineries.
The staff also share the Calabria family's immigration story. It's one of ingenuity and hard work that's familiar to many culturally diverse food and wine producers in this region. Bill's parents were Italian immigrants who established the brand in 1945. Over the years the winery battled droughts and recession. Bill took over in 1995 and grew the company of four employees to the winery it is today; crushing more than 30,000 tonnes of grapes, and exporting to the USA and UK.
McWilliams's Hanwood Estate Cellar Door, Hanwood NSW
Yearning to experience more of the region's wine, I head to a Griffith icon: McWilliam's Hanwood Estate Cellar Door. Established in 1917 by John James McWilliam, the son of a Northern Irish immigrant, McWilliam's has survived six generations of winemakers.
The arched architecture of the 45-year-old cellar door is striking, shaped to the exact scale of a half-wine barrel. Inside, the arched ceiling with exposed beams is accentuated by streams of light billowing in through a glass panel wall. Above is a painted glass mural of an ox and cart carrying grapes down an old vineyard road.
I take my place on a long table and meet a spread of five wines including a touriga with berry notes, a full-bodied Durif and an intense 10-year-old tawny.
Cellar door manager Paul Richardson explains that the secret to great wine is the region's warm climate. This often lessens the risk of disease. Water security, guaranteed by rainfall or Murrumbidgee irrigation, also helps control production. "We have the climate and Italian heritage," he says. "We've got history and we know our soils."
Driving around Griffith in spring, it's clear to see that agriculture in this dry-yet-irrigated food bowl is flourishing. On the way back to tonight's accommodation in town, Quest Griffith, I pass multiple fruit orchards. So, I spontaneously pull over to pick fresh valencia oranges at a farm owned by a friend of the driver.
Limone Dining, Griffith NSW
I arrive back in town just before nightfall and walk to Limone Dining. It is owned by Luke Piccolo, a Griffith local whose Italian nonna taught him how to cook as a child.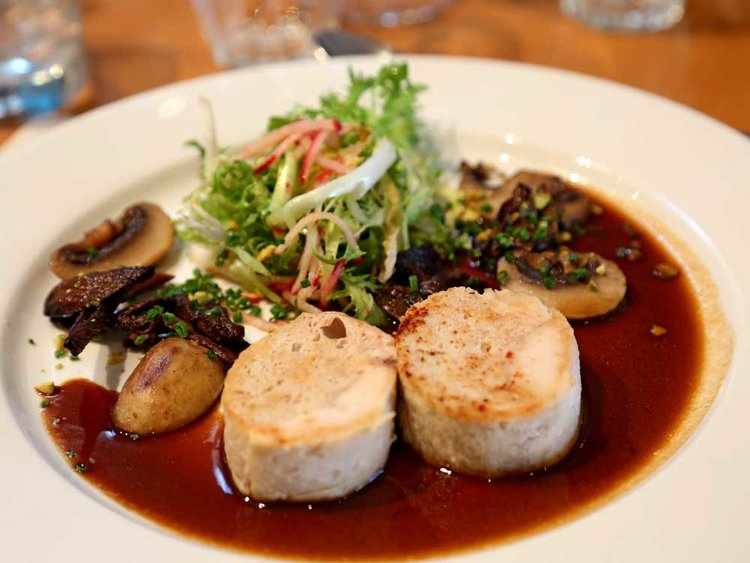 This fine dining restaurant was made from recycled materials collected over 30 years, and took more than five years to construct. The sustainability theme continues on the plate with a three-course menu showcasing local produce.
I sample the risotto with mushrooms and stinging nettle, and for main I have smoked rainbow trout fillet. Too stuffed to eat dessert alone, I share a mascarpone and berry tart with my dinner companions.
Luke, who leads a team of chefs all aged under 30, is but one of a new generation of young entrepreneurs in Griffith putting their own spin on the food traditions taught by their migrant grandparents.
Zecca Handmade Italian, Griffith NSW
Zecca is another popular restaurant, run by three young Australian-Italians: Daniel D'Aquino, Ben Di Rosa and Michaela Di Rosa. Chef Ben also attributes his cooking skills to his nonna. Situated in a revamped building that used to serve as the Rural Bank, the restaurant makes everything from scratch. That includes pasta, sauces, breads, gelati, antipasti, cheese, preserves and olive oils.
Catania Fruit Salad Farm, Hanwood NSW
The following day, I visit the 100-year-old Catania Fruit Salad Farm, owned by Joe and Sharon Maugeri. I head off on a bumpy farm safari ride in a magnificent rusty van to see more than 60 types of fruits growing. There's an abundance of apples, pears, olives, chestnuts, cherries, peaches, pistachios and prunes.
I then head into the main house, a mud brick farmhouse circa 1912. Here, I taste a freshly picked blood orange, Sharon's homemade preserves, wine – created 'the Sicilian way', as taught to Joe by his Italian family – and 'pissed prunes' (d'Agen prunes in port).
Pages on Pine Restaurant and Grill, Leeton NSW
The next stop is a 40-minute drive away, so this gives my stomach time to make room for lunch. Pages on Pine is a French restaurant with modern Australian influences located in the small but charming town of Leeton. The establishment is owned by a husband-and-wife duo, French immigrant Eric and Vanessa Pages.
The golden restaurant interior complements the wooden vintage floor, sourced from the town's iconic art deco 1930s Roxy Theatre. Although the menu is local, seasonal and changing regularly, Eric recommends visitors try the beef cheek. It's his favourite dish to cook. I also indulge in a cheese platter for dessert; a necessary precursor to visiting Coolamon Cheese, located one hour and many canola fields away, on the following day.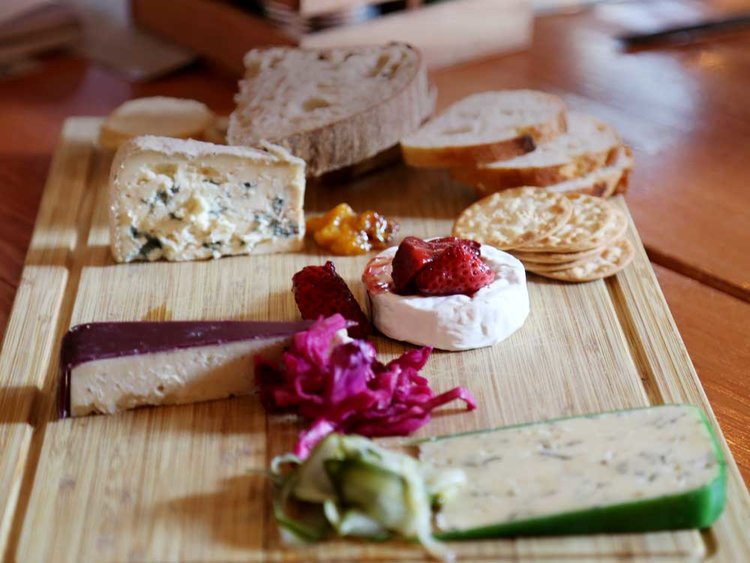 Coolamon Cheese, Coolamon NSW
Created by microbiologist turned cheesemaker Barry Lillywhite, Coolamon Cheese is the destination for cheese-lovers who aren't shy when it comes to tasting traditional and inventive varieties. You can even go on an educational tour, learning the art and science of creating the perfect cheese.
Set in a former 1920s co-op on the town's main street, the farmhouse-style building houses a cheese kitchen, deli, factory and a light-filled courtyard.
Excited by the huge array of dairy produce, I try 12 flavours of artisan European and Australian-style cheeses. My favourites are hard cheeses infused with indigenous ingredients such as  lemon myrtle and river mint.
Luckily for me, my trip to the Riverina doesn't need to end any time soon, so I relax with a regional drop and dream away, lost in moments of handmade dairy heaven. Savouring the international flavours I've experienced throughout this diverse destination, I block out the world beyond the Riverina and remain in a delicious fusion of local tastes.
Did you know you can fly directly to Griffith with Rex (Regional Express) from Sydney? For the latest flight times and prices, head over to rex.com.au
Loved this story? Here's a similar foodie adventure to make your tummy rumble even more: Southern Highlands: A peaceful gourmet getaway in NSW