We catch up with NRL legend and fishing fanatic Andrew Ettingshausen to talk sport, life, work, and avoiding that nasty little thing called stress.
Andrew Ettingshausen, aka ET, says his life is pretty much defined by the three big Fs – family, fishing and footy.
"I grew up surrounded by family and the great outdoors," he says. "My cousins, siblings and I could usually be found kicking a footy around, and we loved fishing. Because Dad was really interested in rugby league, he spent a lot of time with me in the backyard, teaching me the basics. Mum and Dad always came to watch my games. Right from when I was a little kid, they'd be there on the sidelines. And later, even if the games were in places like England, they'd fly over to be there."
ET grew up in Sydney's Cronulla, and he's the first to admit that he's a homebody who doesn't seek out change. In fact he started playing for the Sharks when he was 17, and remained loyal during his 18-season career. He also still lives in the area where he grew up. "I'd followed the Sharks since I was a little kid. The grounds where they played were a short walk from home," he says. "So it was a magnificent feeling, that first day when I walked out there with them."
Famous for his speed (super-coach Jack Gibson once said: "ET's so quick he can turn the light off and be in bed before it gets dark") and movie-star good looks – which many credit with bringing more women to the Australian game – ET quickly made a name for himself. He retired from footy in 2000, but that didn't put an end to his love of sport. It simply meant he could devote more time to fishing.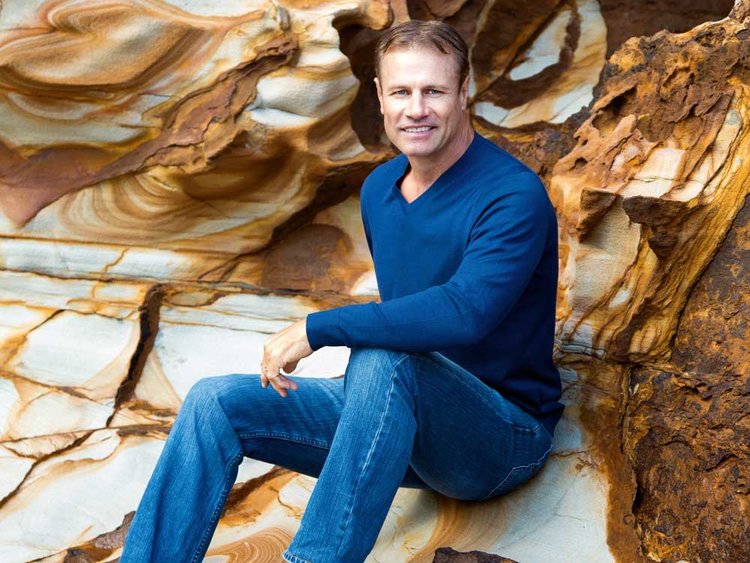 Throwing out a line
It's a love that developed at a tidal point on the Central Coast called Empire Bay, where his grandparents lived. "All of my family, friends, cousins, aunties and uncles hung out up there, and we all loved fishing, prawning and crabbing. I think those great times – growing up with a big family, playing footy when we weren't fishing – sum up my life today. And the great thing about fishing – unlike footy, which has a time limit on it – is that you can fish all your life."
ET has a knack of turning his favourite pastimes into work. After wrapping up his footy career, he tackled a new televisual passion project: Escape with ET. Hosted by the man himself, its main focus is on fishing. Although, it also covers water sports, off-road four-wheel driving and other outdoor activities.
"Fishing is a great way to get away from everything," ET says. "It gives you time to regroup. You can sit back and think about things while you fish. It's also a leveller. Doesn't matter that you're a prime minister or the farmer down the road – you're just someone out there enjoying fishing."
Living in God's country
Referring to Australia as 'God's country', ET says he wouldn't want to live anywhere else. "We have everything in this country. From the cool rainforests of Tassie to the mountains in the Snowies; the stunning Kimberley and all of the Top End – it is so special and ancient. So many people head off to the US or Europe on holidays, but what we have here is just as incredible. It's why Australia is on most people's bucket list. Put me in a tinnie in a Top End creek full of barramundi, and I'm a happy man."
Having had his own fishing show for two decades, ET has racked up some extraordinary tales. But there's one that stands out. "My mates and I decided to go fishing for black marlin off the coast of Cooktown," he explains. "We travelled 3,000 kilometres to get there. We hopped in a small trailer boat and headed a couple of hundred kilometres off the coast. It was an amazing journey in itself, and then I caught a monster marlin; around 1,000 pounds and 13 feet long with an eight-foot girth. I managed to get her up to the boat and it was just mind-blowing. Such a fantastic fish and what a fighter! What made it so special was that we weren't in a big boat. We were in a Yellowfin 6700 plate boat!"
Caring for our aquaculture
Spending a lot of time in the wilderness, ET knows firsthand how important it is to take care of the environment and to be wary of fish stocks. He's a big greenie at heart and knows not to bite the hand that feeds him.
"I'm not a person who likes to kill lots of fish – I let 95 per cent of our fish go," he says. "With big barramundi, for instance, you don't keep them, as they're the females and they can lay thousands of eggs, which means great fish stocks in the future. On the other hand, a nice 60-centimetre barramundi is great for the dinner table, and won't put a dent in the fish stock. It's all about sustainability."
Through his show, ET is also fortunate enough to hang out with key Indigenous people in remote communities that most people don't get the chance to visit. He's been mud crabbing and spearing stingrays, cooking them in the ground with coals on top. During his footy career he also became friends with former Sharks player David Peachy, of the Wiradjuri people from the Dubbo region of New South Wales.
"We went fishing with his relatives and caught a whole pile of barramundi. We baked them in the traditional Indigenous method: in the ground, wrapped in paperbark," says ET. "It was a fantastic experience. When I spend time with Indigenous Australians, I can really see their genuine love for the Earth, and everything in nature around them. I can see how it all ties in with their lives."
In search of the good life
ET certainly has a good life, and he admits that he's lost the right to complain. "Every now and then life throws something at me and I might feel stressed or down, but my wife tells me: 'Hey, you just remember what some of your mates are doing right now – digging holes or sitting at a desk – I bet they'd just love to be out fishing!'"
Of course, it's not all roses in anyone's life, and there have been hard times. ET has openly talked about going through depression and the dark periods in his life. "I learned the hard way that stress is something you do not want in your life," he says. "I never thought I would be someone to suffer from depression, but when the GFC hit, two of my friends in business unfortunately went bankrupt and left me in millions of dollars of debt. It was a dark three-year period that I had to struggle through.
"There was an enormous amount of pressure and I was hardly sleeping. And because of my upbringing with league, I had adopted a certain mentality: there's no second place for athletes. Everything you do is about winning. You come across challenges and you just keep bulldozing them down. But in retrospect, waving the white flag early could have actually been victory for me. If I had admitted defeat, I might not have subjected myself and others to so much pain. Sometimes there are things that are not worth fighting for, and sometimes it's better that you wave that flag early. Stress is a real killer."
Fame can be hard to handle, but ET has managed to escape that awkward 'celeb' mould. "People come up to me all the time and start chatting away as if they know me," he says. "And I enjoy being that approachable guy who others feel that they can talk to. It makes me feel good. If someone can look at me and think, 'he's not putting anything on', that means something to me. Basically, if you've ticked off a fair few boxes in life and haven't hurt or upset too many people, you're doing pretty well, I reckon."