Two parents, three kids and no tech devices. Fire, horses, and gold. It's a recipe cooked up to bring a family together through treasured memories.
We hit the road out of Sydney, attempting to take a relaxing trip to the Blue Mountains with kids. And after the usual squabble between our three tweens about who's going to sit in the middle, there's immediate grumbling. "Why can't have the iPads on the way? Pleeease? Then we won't use them for three days – promise! Just one more game of Fortnite!"
The answer is 'no', and then the first suggestions don't go down well: I spy? Count some cows? Take a snooze? We all settle on a family favourite; a fruit salad memory game where you go around the circle, adding another type of fruit to the salad. If you can't remember the order, you're out. The game gets us halfway to the Blue Mountains. Then we switch to thinking of an animal that starts with each letter of the alphabet.
There's some fighting, but there's also a lot of laughter. We reach the letter P by the time we drive through the front entrance of Turon Gates. We're staying in a homestead called The Loft. It's perched on the side of a hill with superb views across kangaroo-packed paddocks, sandstone gorges and the sprawling, grand mass that is the Blue Mountains. There's no phone reception. No internet.
Fire starters
"What's kindling?" That's the first question out of the youngest one's mouth when we settle in and decide to light a fire in the lounge room's open fireplace, and a bonfire in the firepit outside. It's autumn, so as soon as the sun sets, it's going to be freezing.
And so the fun begins. We give the kids re-usable shopping bags and explore a nearby paddock with an abundance of sticks and twigs. Before we know it, we've raised the bar. Dad is showing the kids how to break logs thicker than their legs by wedging them between tree branches and all pushing and jumping their hearts out.
When the fire is lit inside and the lounge room is toasty warm, we focus on our bona fide bonfire. Before darkness descends we have it roaring and it's mesmerising. We make damper in an old billy can, whip up a chicken pasta and bake some salted caramel cookies. Then it's marshmallow roasting on the fire. (If you're taking on the Blue Mountains with kids, marshmallows are the key to success.) We watch Ferris Bueller's Day Off, and the kids crash right after, exhausted, with cookie crumbs on their fingers. Thankfully, the word 'iPad' hasn't been uttered.
Our base for exploring the Blue Mountains with kids
The next morning starts with a fry-up. Afterwards, the kids race about collecting more firewood, and then we all head down the road to Turon Gates camping ground. It's a 10-minute drive through stunning Aussie bushland. We spot a goanna, hundreds of kangaroos, wallabies, birds, and cows galore.
Turon Gates has a lovely history. Owners Soren and Sonya arrived in the area on a camping trip in 1972. After four days they fell in love with the place, and decided that, one day, they'd retire there. They built themselves a small, cosy bush retreat by the river and gradually bought more land, establishing a campground. Wanting to expand the idea and build more places to stay, the couple invited others who loved the area to contribute some funds, so more land could be bought and other dream eco retreats could be built. Today Soren and Sonya run the accommodation alongside activities such as horse riding from their original cottage.
We meet Sonya for a coffee (she's as bubbly as everyone says, and brimming with local knowledge). We head down the road to see the incredibly glamorous eco glamping tents and enormous conference tent at the epicentre. It's ideal for business bonding escapes, and is popular as a wedding venue too.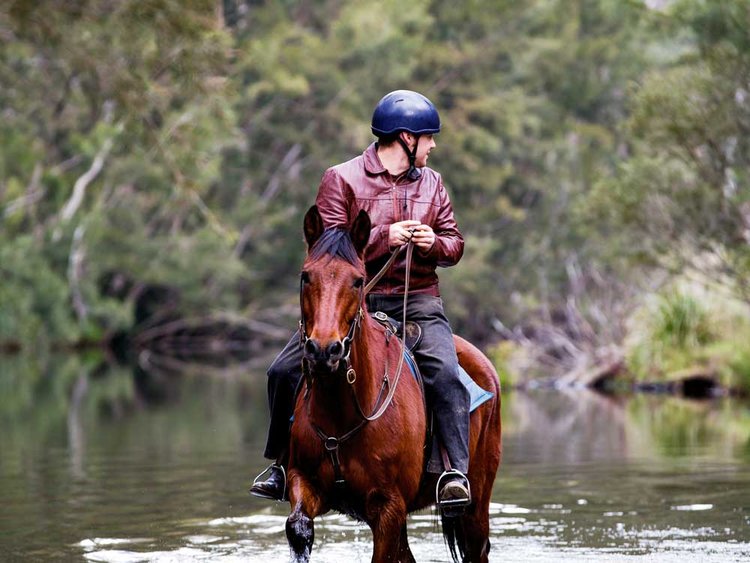 Horsing around
Next up: horse riding. The excitement as the kids are introduced to their horses – Kahlua, Oscar and Midnight – is enough to have everyone grinning from ear to ear. They're lovely, calm, sturdy steeds. We set off with our riding instructor and guide, Peter. The sun is shining and the river is sparkling under a bright blue sky.
We head out of the camping area and into the wilderness. There's no one else out on the tracks, so we could be in the middle of nowhere. We brave some river crossings, but for most of the two-hour ride, we simply amble alongside flower-filled paddocks and down sunlight-dappled trails which weave across the mountains. It's utterly peaceful and sometimes we're all quiet, with only a few horse snorts punctuating the silence. It's like meditation – and for once there's no bickering from the kids. They're enchanted, and one of them later says they felt as if they were in a movie.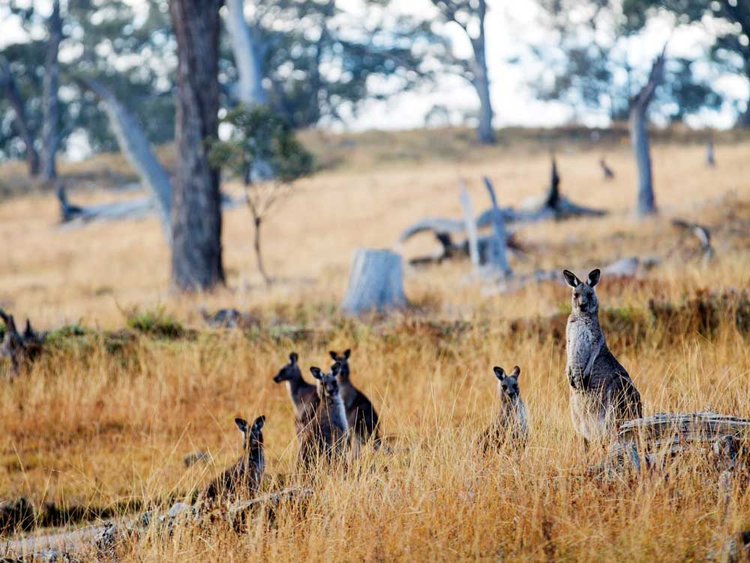 History, mystery & gold panning
Day three of our digital detox rolls around, and it's as though our kids belong to a different era. They're not looking for their phones or asking if they can play 'one game of Fortnite'. Instead, they're volunteering to go wood collecting. Over breakfast they're keen to know what activity we're doing next.
When we announce that we're going gold panning in an old gold rush town, there's more unbridled excitement. On the way to Hill End, they're deciding how to split the fortune when we find a huge gold nugget. It's eventually decided that if we find one worth $500,000, we can all have $100,000 each.
We swing by the quaint town of Sofala, which can legitimately claim to be Australia's oldest surviving gold town as it developed on the back of Australia's first gold rush. Then, we head to History Hill Museum & Underground Mine. It's owned and operated by historian, author and gold-loving character Malcolm Drinkwater.
The museum, which is Malcolm's life's work, is home to more than 10,000 gold rush artefacts. The Son of Hope Mine – which he built himself – has 175 metres of underground passageways that visitors can safely explore. It's remarkable how much there is to see and do, and Malcolm regularly hosts school group excursions. We learn about the German-Australian Bernard Otto Holtermann; a gold miner, businessman, and politician. In 1871, he was one of a few miners who discovered rich veins of gold in Hill End. The Holtermann Nugget was the largest gold specimen ever found. It measured in at 1.5 metres in length and weighed 290 kilograms. Its estimated gold content was 93 kilograms!
After a couple of hours, the kids' heads are bursting with dreams of gold nuggets. We head out of town to meet Malcolm's son, Jhob Drinkwater, who runs gold panning lessons. He takes us down to a secluded river where he fossicks himself, and digs up loads of mud out of a cave-like wall in the creek. He then hands us all a gold pan piled high with clay, and we wander down to the river in search of our impending riches.
Jhob takes everyone through the three main steps. Step one: get your hands in there and break everything up to make it nice and soupy. "Do it like a washing machine," he says with a smile. "Washy washy, soupy soupy." Step number two is shaking out anything heavier, in search of gold. "Shaky shaky," he says over and over to the kids. Then step number three: "Cleany cleany," where you clean out the mud and other rocks, and hopefully uncover a gold fortune.
We spend an hour in the creek going through the steps. The kids are having a ball getting wet and muddy. By the end of the tour, they're all owners of a speck of gold as big as a grain of sand. They carefully pop their spoils into a tiny vial provided by Jhob. They are each worth about 10 cents, so our eldest son's dreams a buying himself a million games and us a house disappear up the creek. He's not that fussed – he just wants to know what's next?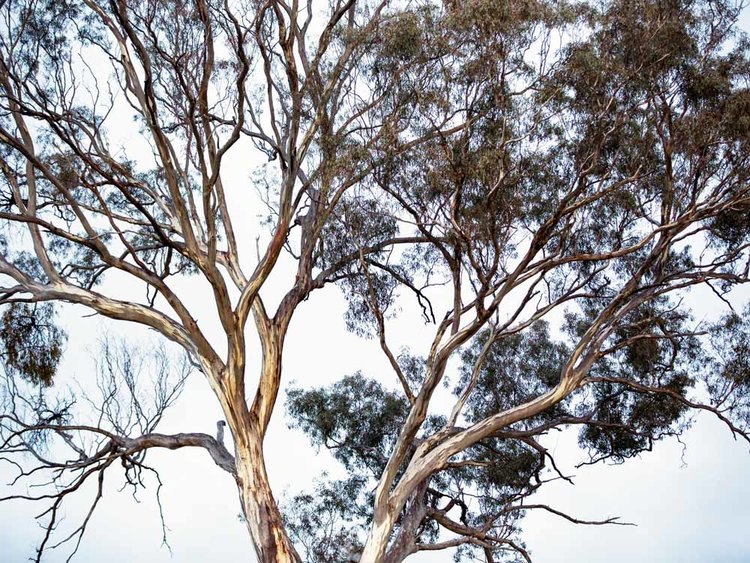 The answer is a pub lunch at the lovely Royal Hotel. The pub has a beer garden that stretches out into a paddock where kids can play and climb trees. The grand building was built in 1872. And it's the last one standing out of 28 which were built during the gold rush. They once serviced the 8,000 people who moved to town with dreams of stiking it lucky.
Our final night in The Loft is another peaceful one. We cook a lamb roast, enjoy more marshmallows over the fire, and pop on another classic DVD from the collection. This time it's School of Rock. The kids' heads are lolling as we reach the film's end, and they're asleep as the credits roll. There's been no mention of 'iPad', and we're hoping that Fortnite has been pushed aside, replaced by dreams of bonfires, gold nuggets and horses peacefully traipsing across mountains.
Not visiting the Blue Mountains with kids? Excellent! This story will inspire a more romantic Blue Mountains escape: An indulgent Blue Mountains getaway